Wancy Sum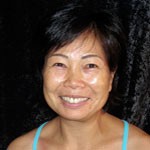 This is Wancy and yoga has been a part of her life since 2003. Wancy is proud to say that she received her certification at 54 years of age and she has never looked back! Just like Bikram has been saying: it's never too late or too old to do Bikram Yoga Through her classes, she has been fortunate to spread her passion for yoga and she encourages her students to dedicate themselves 100% in body and mind. Wancy's philosophy is to teach from your heart and encourage others to continue learning. Come in and take Wancy's class, she looks forward to sharing the benefits of yoga with you.
Wancy Sum instructs the following:
Traditional hot yoga that contains 26 postures and 2 breathing exercises. 90 min.