Roxana Mavai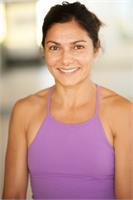 I first discovered Bikram yoga in search of improving flexibility and generalized physical therapy. I had been athletic for quite some time and had accumulated some minor aches and pains in hips and hamstrings as well as intermittent back pain from jogging for fitness and participating in a variety of sports. I had dabbled in some other styles of yoga and discovered the Bikram series through a friend's recommendation. From the start, I felt a deep connection to this yoga and through a dedicated practice, I experienced healing, alleviation of aches and pains, and general improvement in my health and well-being. The affinity I developed for the yoga led me to pursue training to become a certified teacher and to share my passion with others. My background in medicine and training in radiology provided me with a strong knowledge of anatomy and deep understanding of general physiology as well as pathology. Combined with my own general interests and pursuit of knowledge in the fields of nutrition and exercise physiology, along with the training received from teacher certification, my unique background has helped me to understand the Hatha Yoga postures chosen for this series, and also, why they work individually as well as synergistically in the chosen combination to provide such powerful benefits.
Recently, I was faced with a humbling incident of a serious injury after a fall while skiing, bringing me back to the basics of the physical therapy of this yoga practice which had me nearly fully recovered within 6 weeks of yoga practice as my primary physical therapy. This experience more deeply affirmed my strong connection and belief in this practice. Come experience for yourself the therapeutic benefits of this yoga which, with dedication, will transform you and your life.
Roxana Mavai instructs the following:
Traditional hot yoga that contains 26 postures and 2 breathing exercises. 90 min.




Traditional hot yoga that contains 26 postures and 2 breathing exercises. 60 min.