Aileen Ng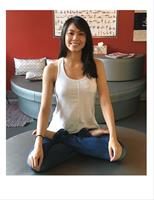 The moment you walk into Aileen's class she will make you smile. Her energy is strong and amazing to lift you up and fire you up.
Aileen recently has become a teacher after practicing Bikram yoga for 6 years straight.. she has become a real regular here at the Metrotown studio and most will recognize her. Join her and you'll understand clearly...
Aileen Ng instructs the following:
Traditional hot yoga that contains 26 postures and 2 breathing exercises. 90 min.