Anh Ly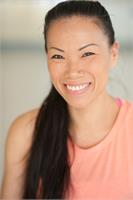 In 2002 I suffered a traumatic brain injury that had left me in a wheelchair. The doctors said that I would have the intelligence of a 2 year old child. I lost all motor skills and my speech was impaired as well. I had a lot of therapy. Since then, I started being active and I want to live a healthy lifestyle. I went to the gym and started running. I didn't start my first Bikram class until May 2007 and I hated it so much. When I started practicing Bikram Yoga, I was walking, but I had a lot of emotional issues. I then went on and did some more running and cardio kick boxing. It wasn't until the stress grew to high levels that I gave Bikram Yoga another shot. I went back around Jan 2011 to give it another try and after that second class, I was instantly hooked. I went with no expectations; I sweated all my stress and worries out in the hot room. At the end of class, I had never felt better. I graduated teacher training fall of 2011. The class is the exact same postures and 90 minutes each time but everyday our practice is different. Bikram yoga has helped me respect myself and accept myself for who I am. Sometimes we have such rocking classes and some days it's just so hard, but we learn to take what our body gives us today and try the best we can for that day. When I had the brain injury back then, I was in diapers. I had to learn everything all over again. I use to walk out of the class every single time. My bladder was weak or so I thought. Bikram Yoga helped train my mind and bladder. Staying in the room was what helped me. Never in my life have I ever felt stronger, mentally, physically, emotionally, as I do now. This is thanks to Bikram Yoga. Our mind is very strong. We can overcome anything if we believe in ourselves and not give up. I never thought or dreamed that I could stand on the podium and be teaching. When there is a will, there is a way. Never give up and lock that damn knee!
Anh Ly instructs the following:
Traditional hot yoga that contains 26 postures and 2 breathing exercises. 90 min.




Traditional hot yoga that contains 26 postures and 2 breathing exercises. 60 min.