Onkar Hundle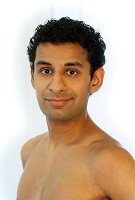 Energy and Charisma is what you feel when talking and walking into Onkar's class. Funny and compelling to challenge you to get to the next level is Onkar's style!
Onkar completed teacher training in Fall of 2009 and it changed his whole life for the better. Onkar started doing Bikram's Yoga in 2003 as a way to heal his stomach ulcer and back problems from sports and weight lifting injuries. After a few months and a 30 day challenge, his ulcer healed and his back felt a lot better! Onkar truly believes that through this Yoga practice, you heal your mind, body and soul. As Bikram says "Yoga makes you who you truly are."
Onkar Hundle instructs the following:
Traditional hot yoga that contains 26 postures and 2 breathing exercises. 90 min.